The tribute borrows its title from the book Hitchcock/Truffaut, which is a record of the marathon-interviews Truffaut took from Hitchcock over a week in August 1962, and while the latter was completing the editing of The Birds. For Hitchcock these might have been just a series of conversations with a young director, but this collection weighed strong on Truffaut, since he was editing it until the end of his life: it is as if it was one of his films. As as gesture of love of the son towards the father, Truffaut stands up for Hitchcock's work, for which he writes in the intro- duction of the book: "I thought then that Hitchcock, whose genius could be compared only with that of Dali, had been interviewed, by American intellectuals, in an ironic and willfully degrading manner".
Not just because the interviewee was the master of fear and suspense –and of awkwardness as Truffaut adds in his introduction– but most importantly because the book is a rare document about the spirit of the generation of directors that passed unimpaired from silent to talking cinema. By reading the Hitchbook, as Truffaut initially coined it, we have in front of our eyes the memento of a model-director that is nowadays extinct. Hitchcock approaches his stories both with the audacity of a child and the determination of a businesses-man, who wants to know the end-result beforehand. Therefore, his answers are a mix of ingenuous- ness and genius.
The Hitchock/Truffaut tribute presents important films by both directors, including Truffaut's favorite Hitchcockian ones, as well as some of his own, for which it could be said that they resemble kinship certificates.
- Phaedra Papadopoulou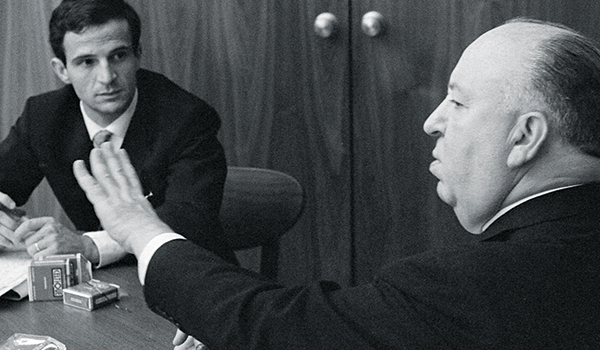 22
Nov 2019
Friday / 22:00
Hitchcock/Truffaut Ντοκιμαντέρ/Documentary Γαλλία, Η.Π.Α./France, USA, 2015, 79' Εγχρ./Color, α/μ/b&w, Με ήχο/Sound In 1962 Hitchcock and Truffaut locked themselves away in … Read more →