Marco Bellocchio is one of the most important and prolific directors of Italian cinema. In our tribute, we will showcase his anti-conformist cinematic gaze, through six of his emblematic films. Throughout his career, Bellocchio was engaged in Italy's political unrest, whilst his work never stopped "listening" to the source of evil in the face of fascism, political violence and the mafia. Whilst young and rebellious, Bellocchio gave up his studies in philosophy, and instead forged his own path by studying film in Rome and London. His directorial debut, Fist in the Pockets (1965), scandalised the Italian conservative society of catholic values, whilst at the same time established him as a figure of renewal in Italian cinema.
While in his first film, Bellocchio decries the bourgeoisie family, in Victory March (1976), he lampoons military discipline. In his film The Eyes, the Mouth (1982) he returns to the bitter-sweet criticism of family and religion, motivated by the suicide of his brother. Through these three films from the first period of Bellocchio, as well as films from his later period, he offers a contemporary re-articulation of the triptych "homeland, religion, family".
The later, more spectacular cinema of Bellocchio is explored with three films. My Mother's Smile (2002) illustrates the commercialisation of faith and religion, through the context of disturbed family relations. With the legendary film Goodmorning, Night (2003), he renders in his own personal and poetic way, the major political event of the kidnapping and murder of Aldo Moro. Lastly in the fairy-tale like The Wedding Director (2006), Bellocchio satirises, amongst others, the Italian movie industry.
In the work of the prolific Marco Bellocchio, the private and the public, the political and the existential, and the collective and the individual are intersected. His cinema is political, not just because he indicts -at times with acute satire- the establishment; but also because he delves in the complexity of human desire.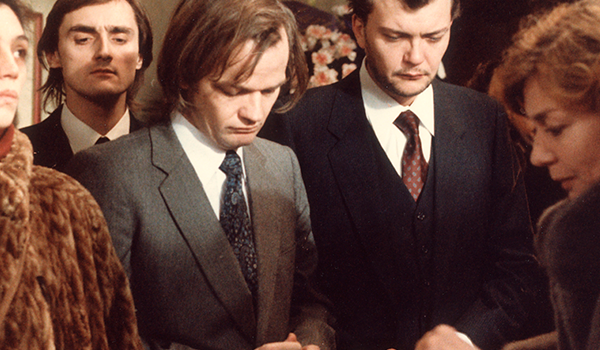 21
Nov 2019
Thursday / 22:15
Gli occhi, la bocca / The eyes, the mouth Μυθοπλασία/Fiction, Ιταλία Γαλλία/Italy, France, 1982, 93 ́, 35mm, Έγχρ./Color, Με ήχο/sound … Read more →